HOME
SPORTS
.soccer
.hockey
.football
.cycling
.softball
.baseball
.lacrosse
.volleyball
.basketball
.running
.rugby
.All Sports

MODELS
.ankle
.crew
.tube
.size chart

ORDERING
.How To
.Material
.Designs
.Mockup
.Testimonials
.Prices
.Coupon

SAMPLES
.pictures
.ankle
.no-show
.crew
.tube

CONNECT
.Blog
.Twitter
.Facebook

HIGH QUALITY CUSTOM BASEBALL SOCKS
"Get Amazing Personalized & Baseball Cycling Socks for your Team or for Promotion"
Are you looking for high quality custom baseball socks, fast delivery and great prices? If so, you came to the right place as we are specialized in customized baseball socks!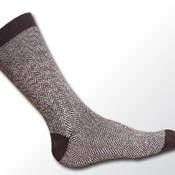 Baseball socks are knee-length socks that are specifically designed to play baseball. They should be fairly comfortable and protect your feet from blisters.

When looking for custom baseball socks, make sure they are durable and technical, rather than cotton-made, so that they don't absorb the moisture.

Made with 85% Ultra Wicking Acrylic, 10% Spadex and 5% Nylon, our technical custom made baseball socks are made to prevent blisters and will keep your feet comfortable whether it's hot, cold or humid. In addition, you can customize them with your logo, colors and patterns.
WHY WE SHOULD MAKE YOUR CUSTOM BASEBALL SOCKS
Highest Quality: Our socks are made of 85% Ultra Wicking Acrylic, 10% Spadex and 5% Nylon
Lower Prices: We are cheaper than our competitors and there is no hidden fees with us
100% customizable: We are proud to be one of the very few manufacturers of REAL custom socks. This means that we will make your socks specifically for you, according to your requirements — the model, color, design and size you want! — and that your logo/design will be woven into the sock ... contrary to most other companies that just do logo embroidery on cheap models they already have in stock.
Fast turnaround: We can deliver your socks as fast as 8 weeks or in 4 weeks with a rush
All sizes: Our socks are stretch-to-fit but we can also create any size you want
All models: ankle, crew, tube (knee), etc ...
American-based: We work with US and international clients and can ship anywhere in the world
100% clarity: We won't take your money until we're ready to start production
TESTIMONIALS
"I ordered and received 120 pairs of custom socks and I just love them. Delivery was fast, and the product is great. They are by far the most comfortable socks I have ever worn. Great job."
Clint
"Got my socks yesterday; very quick delivery from one coast to another as usual! They work! Not only do I wear these with my bike shoes but I always wear them to work now as well, they just work so well at keeping my feet dry."
Eric

HOW IT WORKS
Step 1: Select the color(s) you want (see chart below)

Step 2: Select the text you want (will be printed on the side) or the logo you wish to have (can be added to one or both sides)

Step 3: Select the quantity you need - minimum is 120 pairs of the same model (this means we cannot take order for less than 120 pairs and all socks should be identical within the same order)

Step 4: Attach your logo and e-mail us!
OUR PRICES
SUMMER SPECIAL: SAVE 30% & GET FREE SET-UP - Limited Time Offer!
Just fill in your information & hit the "Submit" Button to see our SUMMER SPECIAL prices ...
Your information is Safe with us
We value your privacy & will never give away your contact info to anybody
CUSTOMIZED BASEBALL SOCK TEMPLATE